Lifts up to 380 kg / 840 lbs
The SL380 is a mid-range glass lifter for indoor use and features sideways shifting up to 10 cm for increased flexibility during installation. The rear-wheel drive makes the lift very maneuverable in cramped spaces.
The SL 380 Indoor is a powerful glass lifter designed for indoor use and handles elements up to 380 kg. Lifting height is up to 270 cm (105 in.) It carries more lifting power than the SL280 Indoor but still has a narrow body width.
The lift can displace the load sideways by +/- 10 cm (4 in.) for more flexibility during installation. A nice feature when space is limited inside buildings and it is difficult to position the lift right during installation.
Combines lifting power and flexible use indoors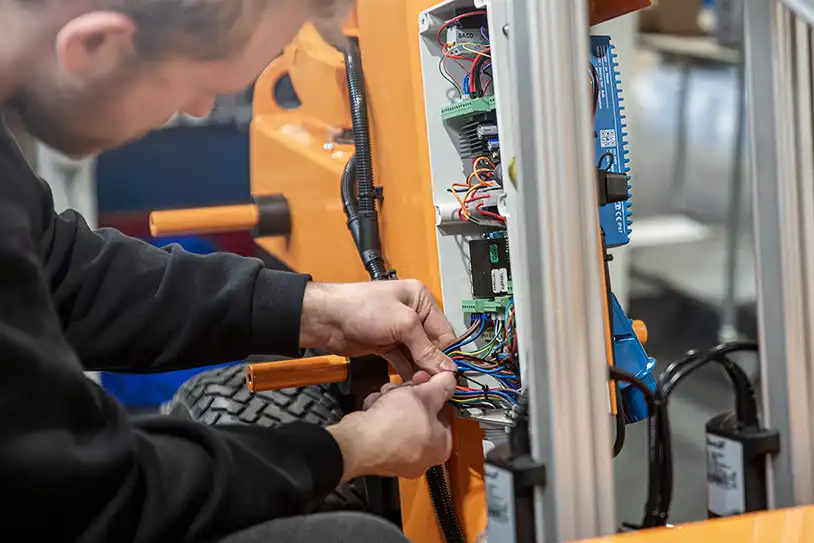 Single Gyro
Electric key switch
White, non-marking tires
Special Color
Wireless remote
Designed for indoor glazing
Smartlift has the widest range of electric glass robots in the market specifically for indoor use. The narrow width of the lift allows the lifts to work in very limited spaces and pass through narrow corridors. Despite the compact size, our indoor range does not compromise on neither lifting capacity nor precision. 
Smartlift also offers a large selection of accessories. Handle anything from pallets to heavy doors, Paroc panels and curved glass safely with a Smartlift. Just ask our experts for advice on your next project.