Smartlift | SL1009 Outdoor
Lifts up to 1000 kg / 2200 lbs
This is our most advanced glazing robot. It combines maximum lifting power and reach. Handle large sheets of glass with ease and precision using the multi-functional, rotating head. The SL1009 Outdoor now features an integrated tracking unit, so you can locate the lift and perform remote-controlled troubleshooting via an app.
The flagship of the Smartlift range
The SL 1009 Outdoor is the biggest glasslifter in the Smartlift range. It features a proportional hydraulic system that enables the operator to control the arm and yoke with great precision. Small adjustments of the controls trigger small movements of the yoke and arm so you can feel confident when handling large glass elements. 
The wireless remote unit offers you freedom of movement during installation so you can get a better view of things. A built-in display gives you overview of battery status, vacuum level and actual load strain. This is a nice feature when working with the heaviest elements and safety is crucial.
Smarter and improved remote control
For the new SL1009, the vacuum meter, battery display and vacuum lock have been moved from the machine to the remote control. The operator can now release the vacuum at the mounting area, where previously they had to move between the mounting area and the vacuum lock on the machine during window mounting. This makes the machine even smarter and improves safety, with fewer exposed machine parts and components.
Track your machine via an app
Track exactly where your machines are and troubleshoot from remote locations.
Tracking – SL1009 has integrated IoT, and you can now track your machine on an App or on desktop. On the App you can follow:
1. Operational hours
2. Error codes – Remote Diagnostics
3. Online service log
4. Online message about mandatory service and maintenance checks
5. Tracking with GPS and GSM-module indicating the machines exact location and communication with 3G, 4G and 5G.
hydraulic extensions of arm
Proportional hydraulics ensures maximum precision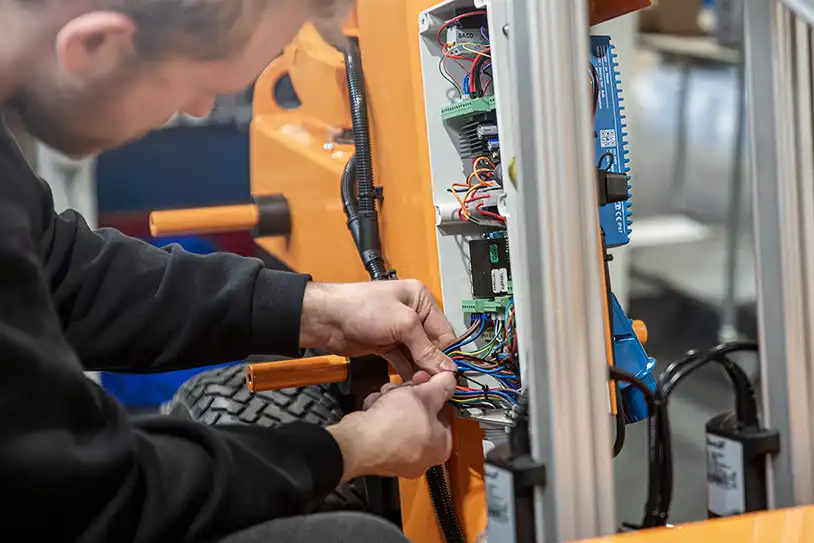 This glazing robot almost has it all. Add an electric key switch and order it in your special color for the final touch.
This glazing robot is built for driving in the terrain using a powerful front wheel drive system. Inclination is not a problem and the lift is resistant to weather and temperature conditions. The outdoor line has some of the most powerful and advanced lifts in our offering, ready to take on a wide range of tasks from lifting heavy window sections to exterior facade elements at great height. The wide and puncture proof tires keep you working safely on all surfaces.
Smartlift also provides a large selection of accessories. Lift anything from curved glass to pallets and heavy doors using original Smartlift accessories. Consult our experts for advice on your next project.
Introducing SL1009 Outdoor