Scissors working platforms
Scissor lifts
AIRO has a broader range of models
Most competitors don't have equivalent of models XS9, X12EN, X14EN and X16EW
Greater extension of the deck
No weight restriction on the rollout deck extension
Load safety check control also on deck extension
Proportional ramp controls
Fork pockets
Coiled controls cable
Up to 3 people in the working basket
Grease nipples as an option for the scissor joints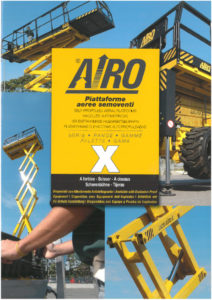 Scissor lifts are used when large loads have to be transported vertically upwards or when an extra wide, safe working platform is required at height. The models in our range can carry loads of up to 700 kg and have a working platform in which several people or even larger material parts can be conveniently accommodated. The solid construction of the scissors working platforms ensures reliable operational readiness and long service life.
Due to their compact design and very good maneuverability, scissor lifts are also perfectly suited for confined spaces. The platforms in our range can be purchased either battery-operated or diesel-powered. Trolleys equipped with a diesel engine are also equipped with a practical all-wheel drive, which brings the scissors working platform safely to its destination even in rough terrain or on muddy ground.
Scissor lifts can also be used for indoor applications, both for routine work in warehousing and for work in the industrial sector and for many other areas of application. Electric models are the preferred choice here, as these have a low noise level and do not produce any exhaust fumes. Light-coloured, non-marking tyres on many chassis of our working platforms ensure that even sensitive floors are not affected.