Articulated telescopic working platforms
Maximum mobile all-rounders
AIRO has a broader range of models
AIRO goes go up to 23m electric A-boomlift
AIRO A-boom lifts have NO tail swing (except for A12E/A13JE – A12ED/A13JED)
AIRO has the A12 JE and A13 JE models higher specs AC drive and lift with simultaneous movements

AC drive & Lift provides far better performances. (i.e.: maximum power available also at minimum speed, more precision and accuracy in the movements; the operator feels greater control and safety)
Proportional ramp controls on all movements and simultaneous
Hydraulic active pothole safety system allow a greater ground clearance at stowed machine
Better for  truck loading / unloading or passing on to a door-sliding rail

All models (except A12 E and A13 JE) are equipped with a detection system and problem diagnostic

Integrated into the ground control panel of the machine. (Faster repairs therefore lower costs and less downtime for both the owner and/or the customer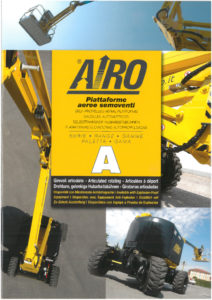 An articulated telescopic working platform is an unbeatable helper when it comes to safely reaching hard-to-reach, angled areas at height, for example to carry out maintenance, repair or overhaul work. Precisely controllable joints can be individually adjusted to ensure that you reach your target precisely. A movable basket arm also offers maximum mobility and maneuverability.
With the models from our range, you can reach a working height of up to 23.1 meters very flexibly and at the same time have a lateral reach of up to 13.9 meters. This enables you to overcome lateral obstacles, such as building parts in front of you, without any problems.
Proportional control – directly from the working cage – enables simple operation of all our articulated telescopic working platforms, which even inexperienced users can quickly and safely master.
Our articulated telescopic work platforms are available either as a battery-powered version or equipped with a diesel engine – hybrid drives are also possible. Which variant you choose depends above all on whether you want to use the platform primarily indoors or outdoors and how long the operation is to last.
A diesel engine guarantees uninterrupted continuous outdoor operation and complete independence from power sources. A battery-powered stage is ideally suited for occasional use and indoor use – such as assembly work in large halls, shopping centers or industrial plants. A combination of both variants offers you complete flexibility with regard to use.