Almac | Bibi 1090-Bl Light
Quick Specs
Max height: 10.0 m
Width: 1.46 m
Capacity: 300 kg
Dynamic Leveling
The automatic leveling system of the vehicle when the machine is in motion allow the platform to always stays level during movement hence keeping the basket level; in addition to the greater comfort in the basket, it gives a considerable saving of time in terms of operation as they arrive on site, already leveled, ready for elevation.
Pro-Active Leveling
The automatic leveling system of the vehicle works up to a height of 7m while in motion, with a controlled speed of 0.5 km/h.
Unlike what happens on other types of self-propelled vehicles, when the electronic sensors detect a change in ground inclination of a few degrees, the machine stops moving, realigns the basket and then allows the operator to leave without having to get off.
Significant advantage in terms of productivity by greatly reducing the working time of the operator and consequently reducing the downtime of all these types of self-propelled vehicles.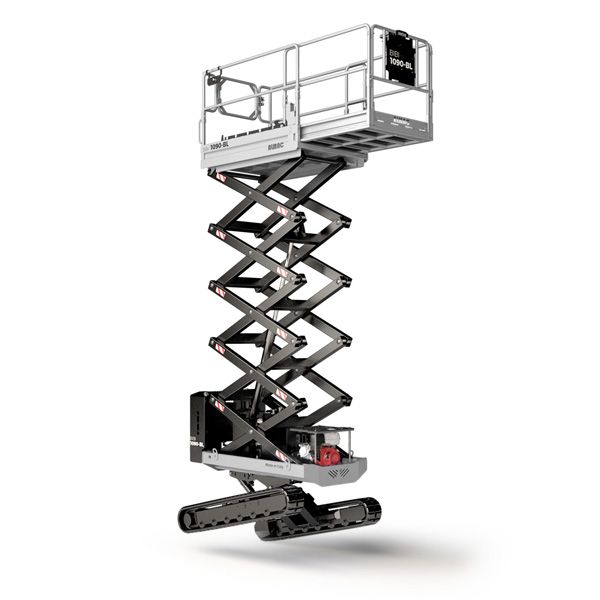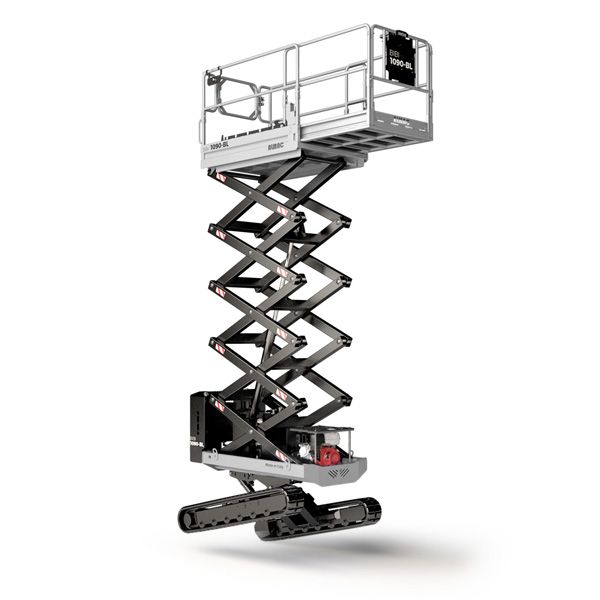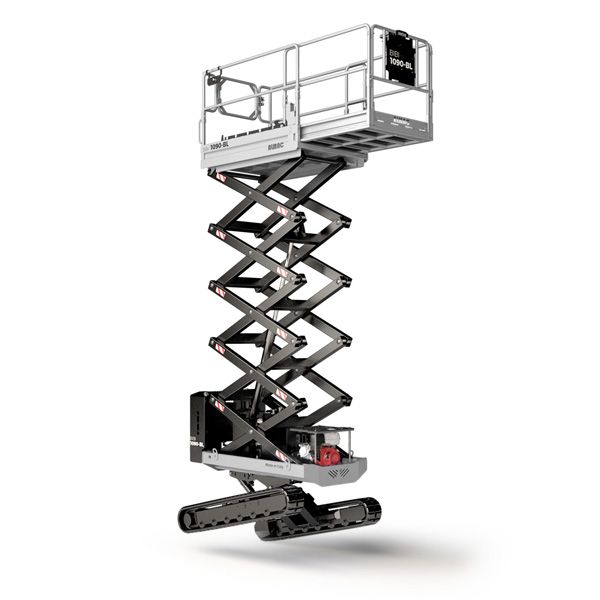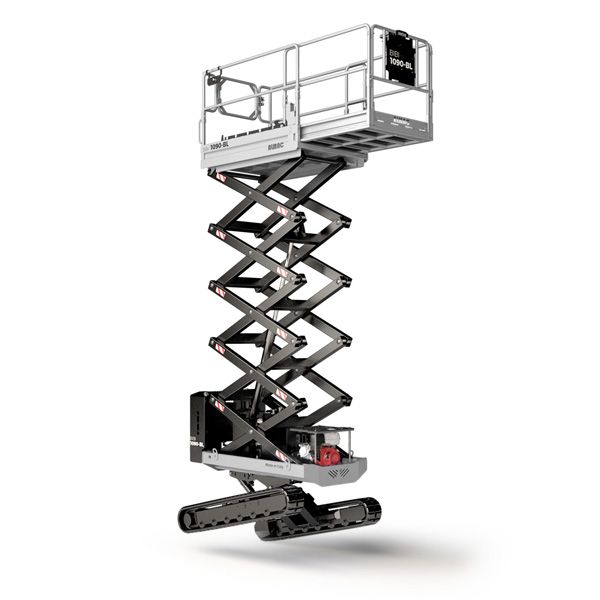 The bi-leveling mini-scissor equipped with petrol engine for operations up to 10 meters in height
Designed to work up to 10 meters in height, the Bibi 1090-BL Light mini-scissor is a machine developed by Almac's excellent technical staff. Equipped with an innovative bi-leveling system, its power is entrusted to an extremely efficient Honda petrol engine.
Why should you choose it?
Almac's main objective is to offer its customers high performance tracked lifts, which can simplify the work activities of this field workers and who are often faced with exceptional situations. Particularly, by choosing the model shown here, you will get advantages related such as:
Reduced size to operate in tight spaces
Simple and safe use even in conditions of steep inclines or rough terrain
What optional can I request?
Although the company provides a machine with numerous standard technological devices, such as the Direction control system, the control console or the Dynamic levelling system, you have the possibility to request some optional to implement the features of your tracked lift. Choosing the mini-scissor proposed here, in fact, you can modify its supply feature and request additional items. Specifically, the customization includes:
220 V – 2.2 kW Electric pump
220V – 1000W Electric generator
Anti-marking tracks
Hatz 1B40 diesel engine
If you have an interest in changing the aesthetic characteristics of the machine, however, a color customization service is available.
| | |
| --- | --- |
| Hydraulic Circuit | Electric |
| Engine | Petrol (Diesel option available) |
| Auto Diagnostic | Yes |
| Control Board | Radio (Wireless) |
| Baskets Adjustable and Fold-able | Yes |
| Easy Drive | Yes |
| Direction Control System | Yes |
| Dynamic drive (DDS) | Yes |
| Dynamic Levelling System | No |
| Automatic Levelling System | Optional |
| Crawled Undercarriage | Bi-Levelling |
| Double Speed Kit 2.4 km/h | Yes |
| Electric Motor 220V – 2.2kW | Optional |
| Generator 220V – 1000W | Optional |
| Non-marking Tracks | Optional |
| Custom Colors | Optional |
| Automatic Drive | No |
| Electric Scissors Kit | No |
| | |
| --- | --- |
| Basket Capacity | 300 kg (2 person) |
| Max Working Height | 10.0 m |
| Max Height Basket Floor | 8.0 m |
| Moving Height | 7.0 m |
| Powered | Honda iGX390 (Petrol) |
| Powered (optional) | Hatz 1B40 (Diesel) |
| Accelerator | Automatic |
| Undercarriage | Bi-Levelling |
| Basket Levelling | Automatic |
| Front Longitudinal Levelling | +/- 15° |
| Rear Longitudinal Levelling | +/- 20° |
| Lateral Levelling | +/- 14° |
| Power Generator (optional) | 220V-1kW |
| Electric Pump (optional) | 220V-2kW |
| Hydraulic Commands | Proportional |
| Dynamic Levelling System | No |
| Pro-Active Levelling System | Optional |
| Direction-Control System | Yes |
| Easy-Drive System | Yes |
| High Speed Kit | max 2.40 km/h |
| Ground Control Emergency | Yes |
| Inclination Control | Automatic |
| Gradeability | 25° |
| Side Slope | 21° |
| Length | 2.18 m |
| Width | 1.46 – 1.64 m |
| Min. Machine Height with Folded Railings | 2.09 (1.75) m |
| Total Weight | 2830 kg |
| Compliance | EN 280 : 2015 |