Almac | Multi Loader 2.5 Plus
Quick Specs
Capacity: 2.500 kg
Autonomy: 8 h
Recharging time: 12 h
Easy Drive System
This is the auxiliary traction control. For example while the machine is moving over a grass allowing the command in a "smooth control" with acceleration and deceleration phases extended. That void wrong commands like tracks counter-rotation.
Direction-Control System
This is the auxiliary steering control. For example while the machine is transferring and/or in a straight path allowing the operator to handle both tracks using one joy-stick forward and reward.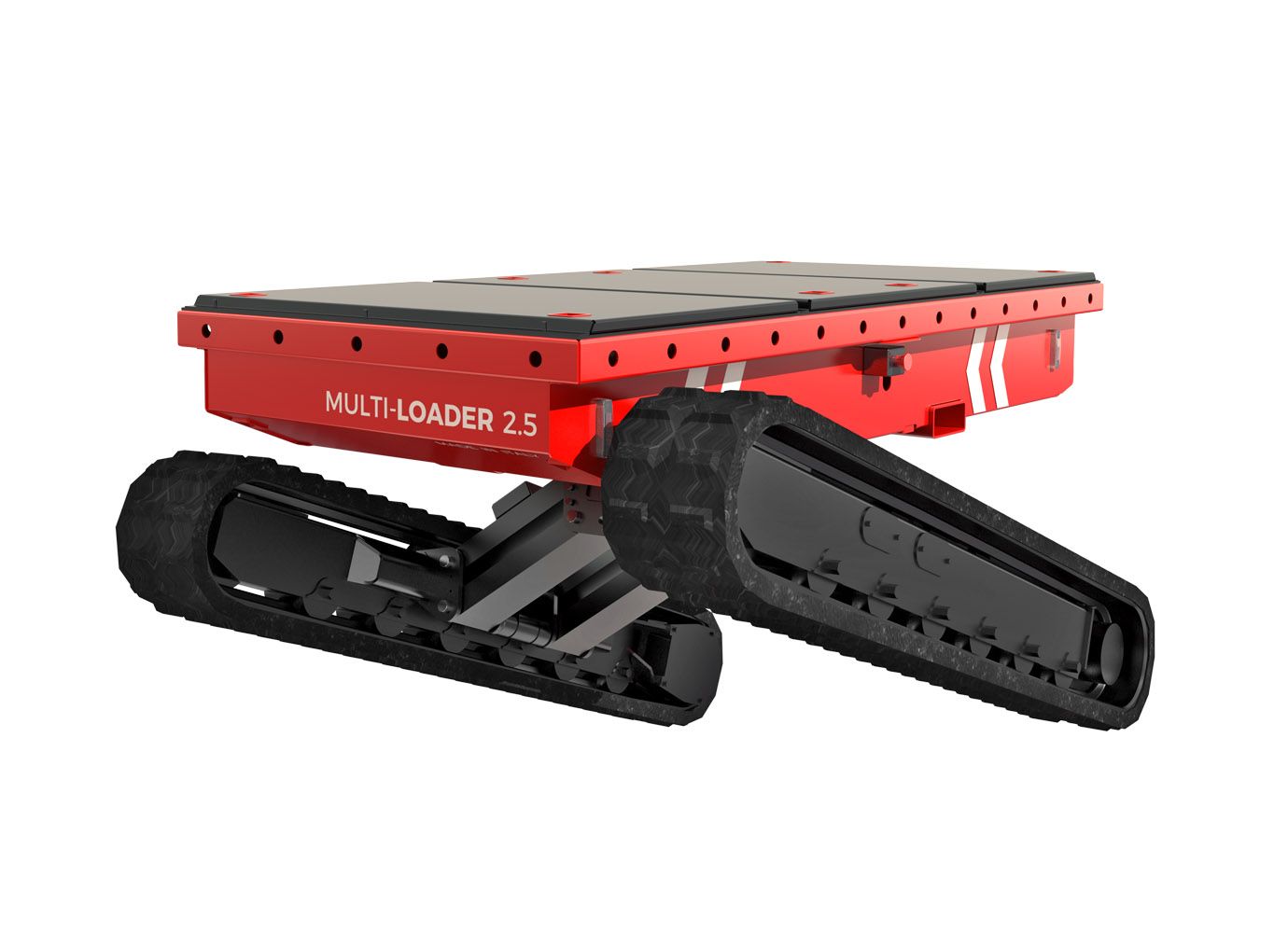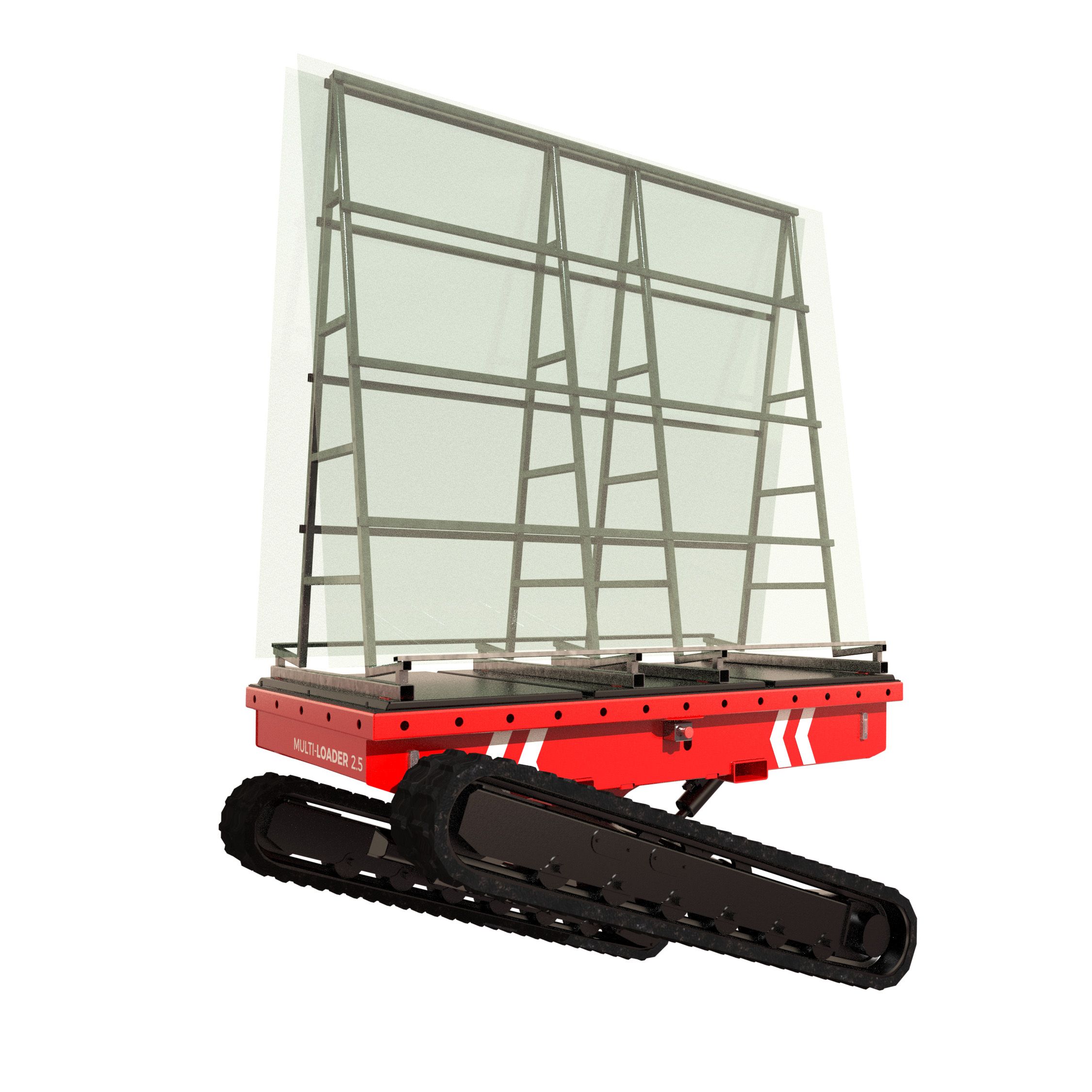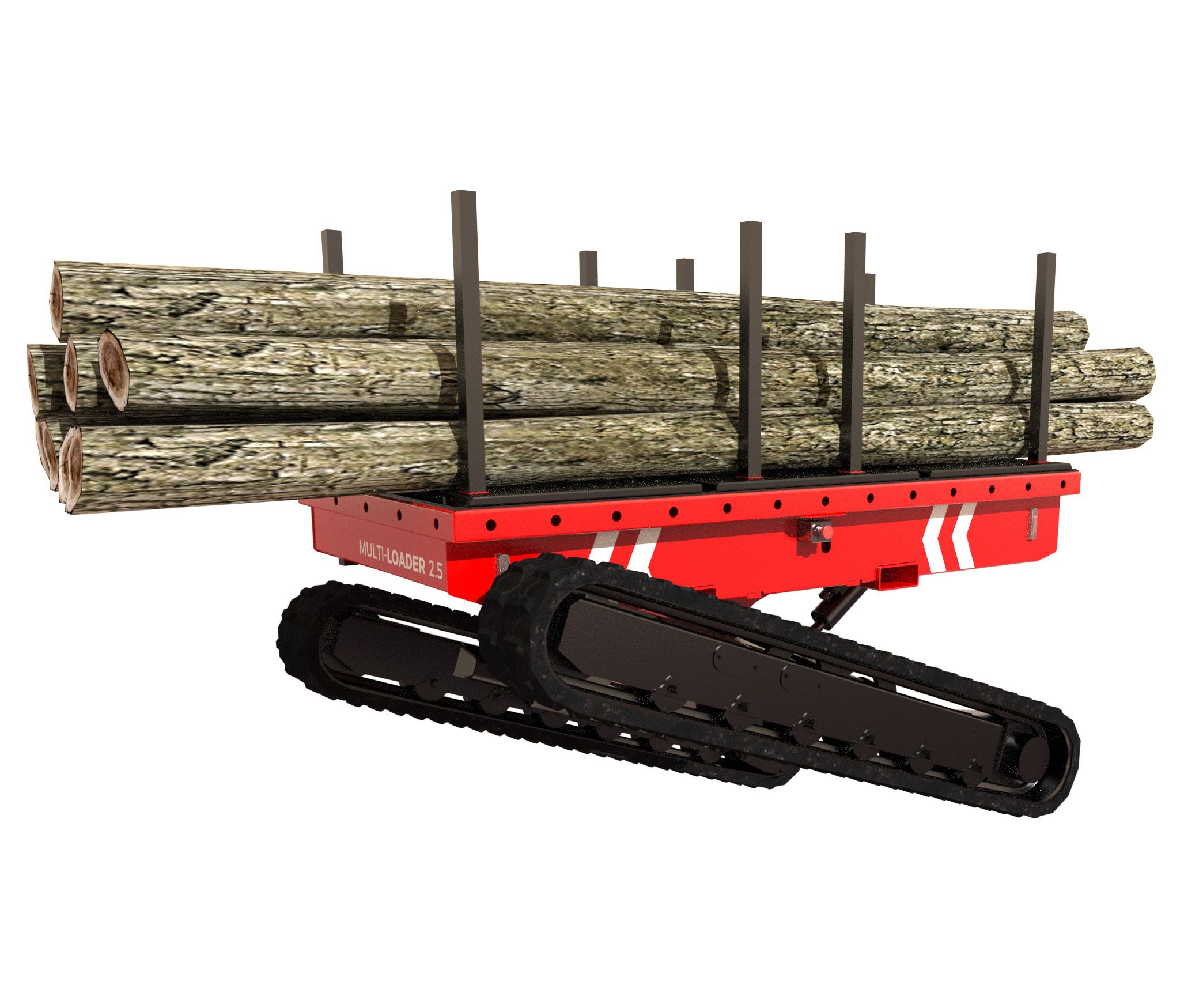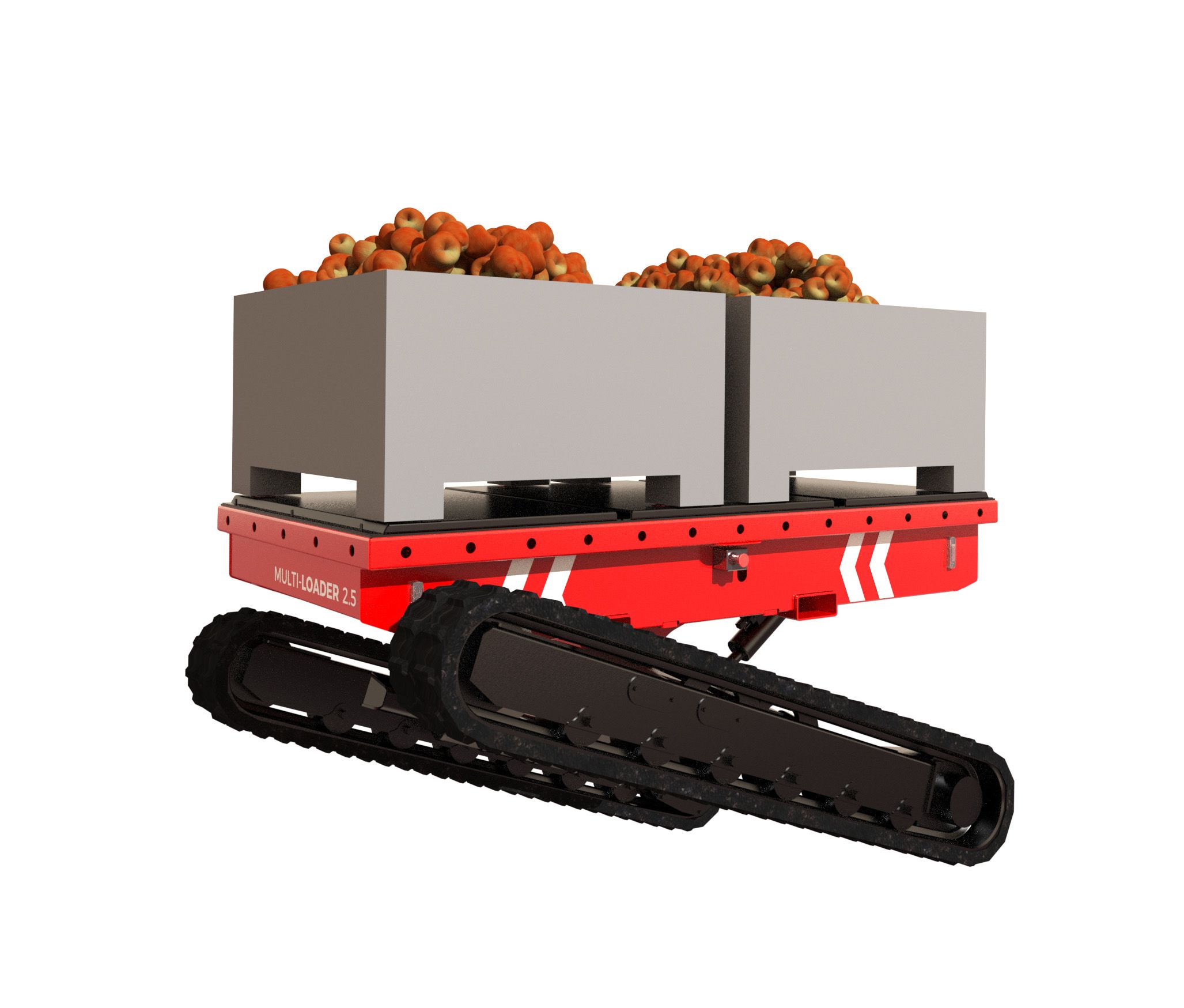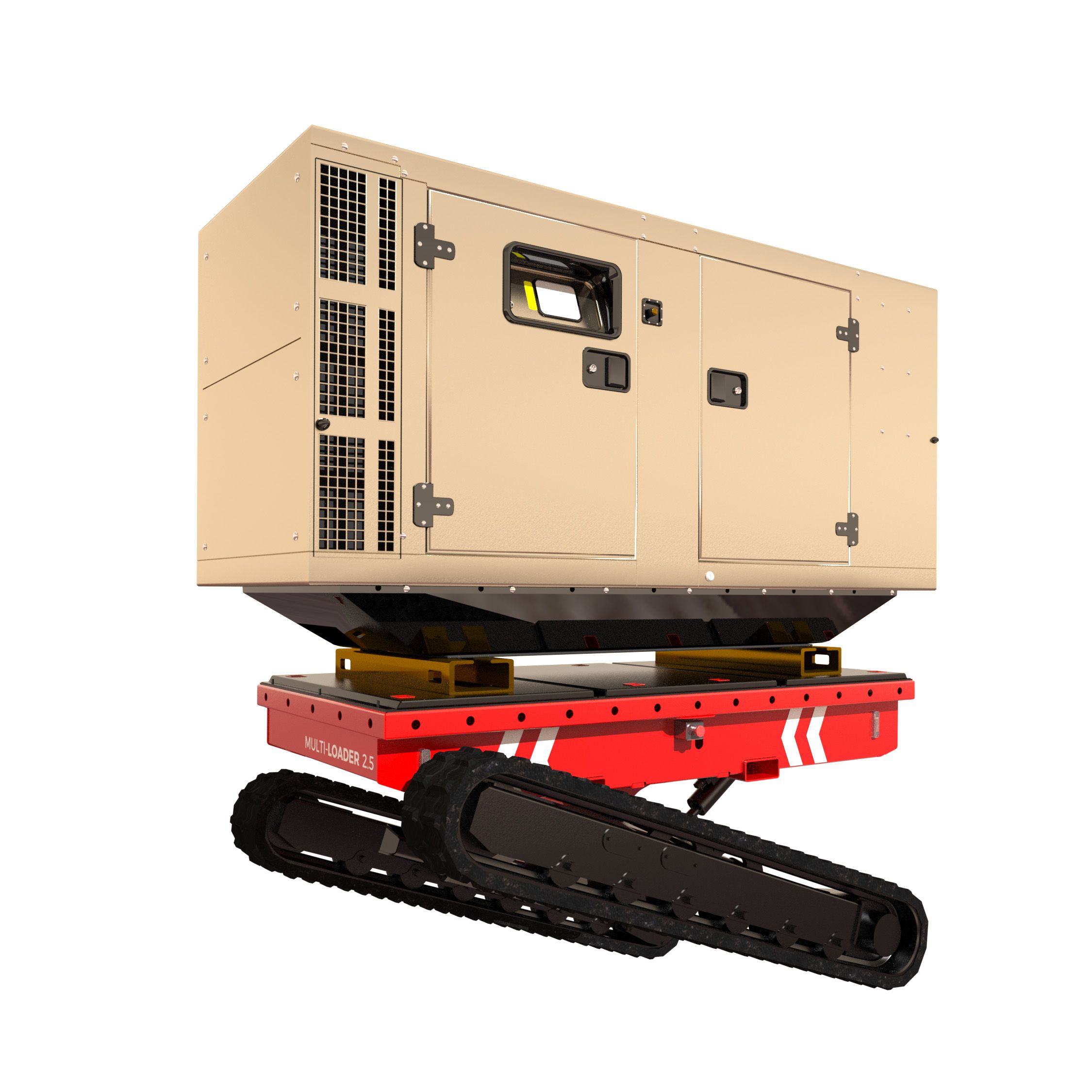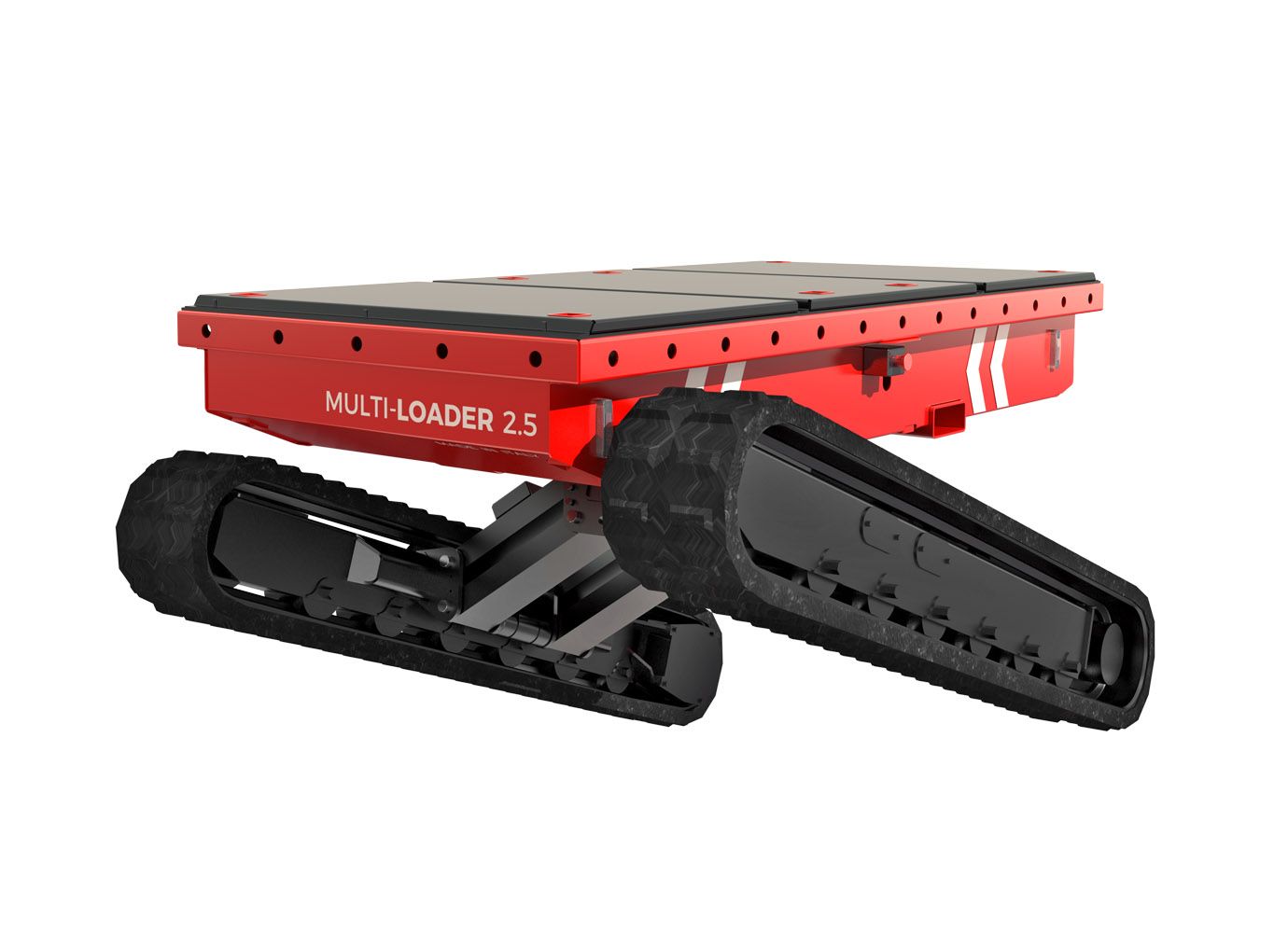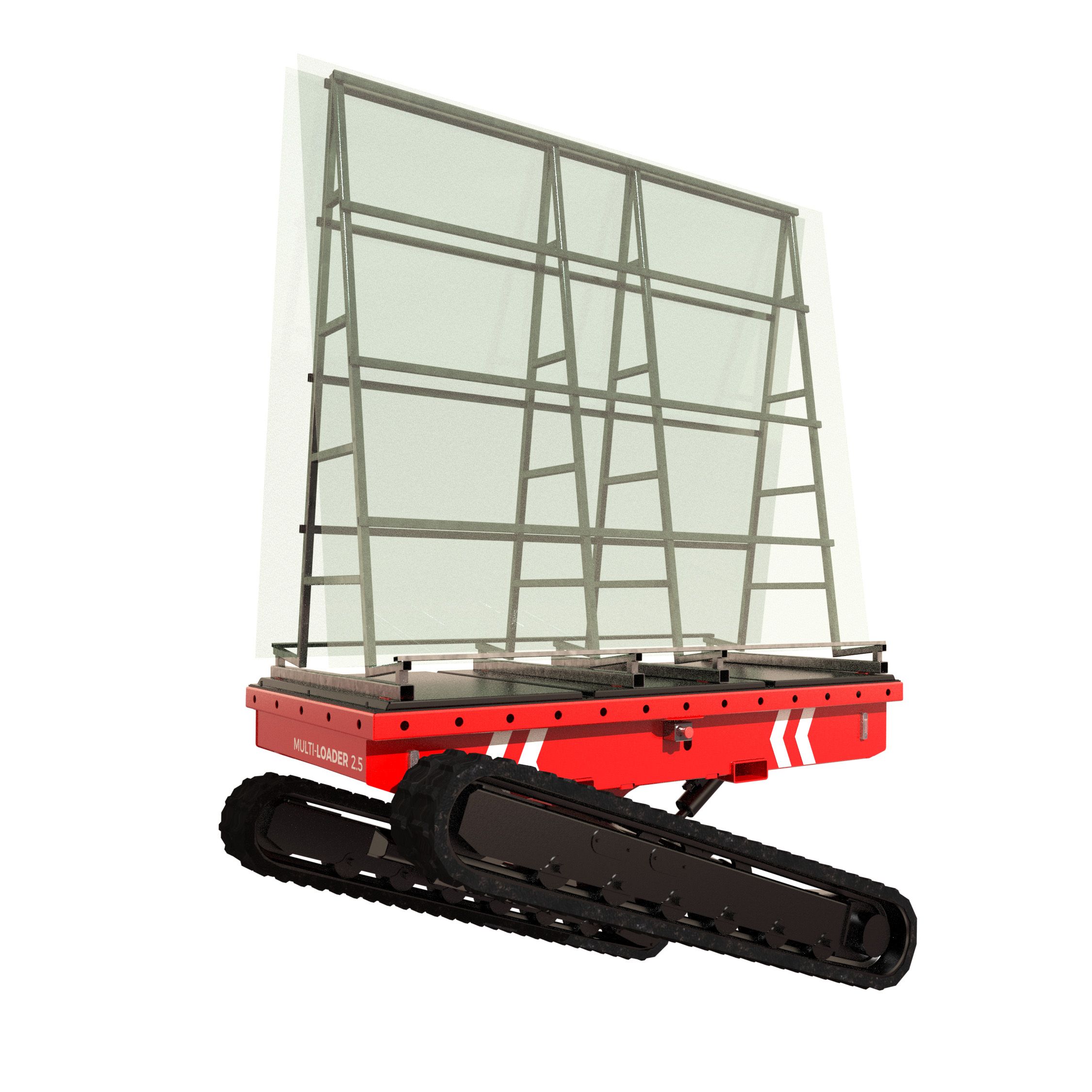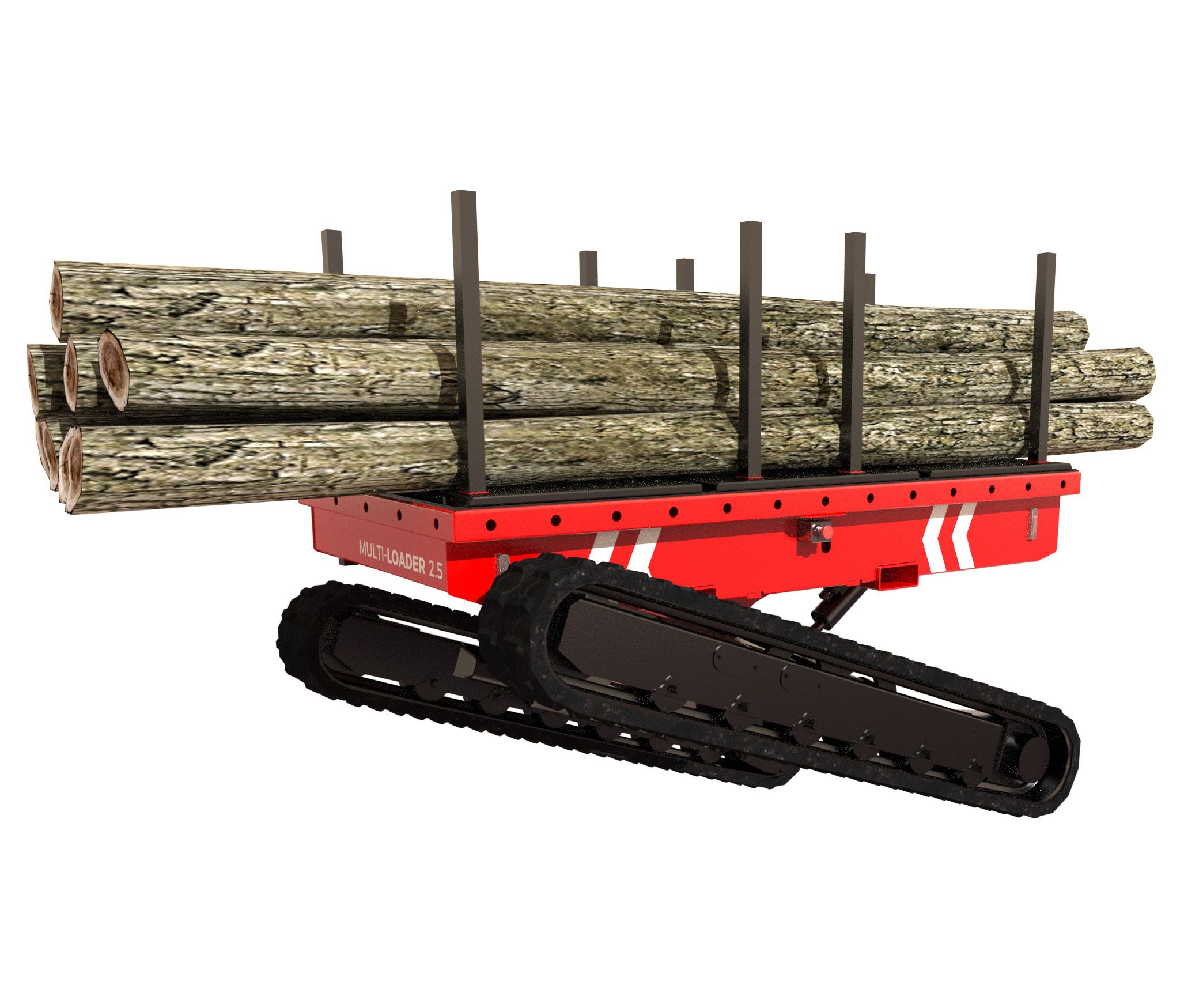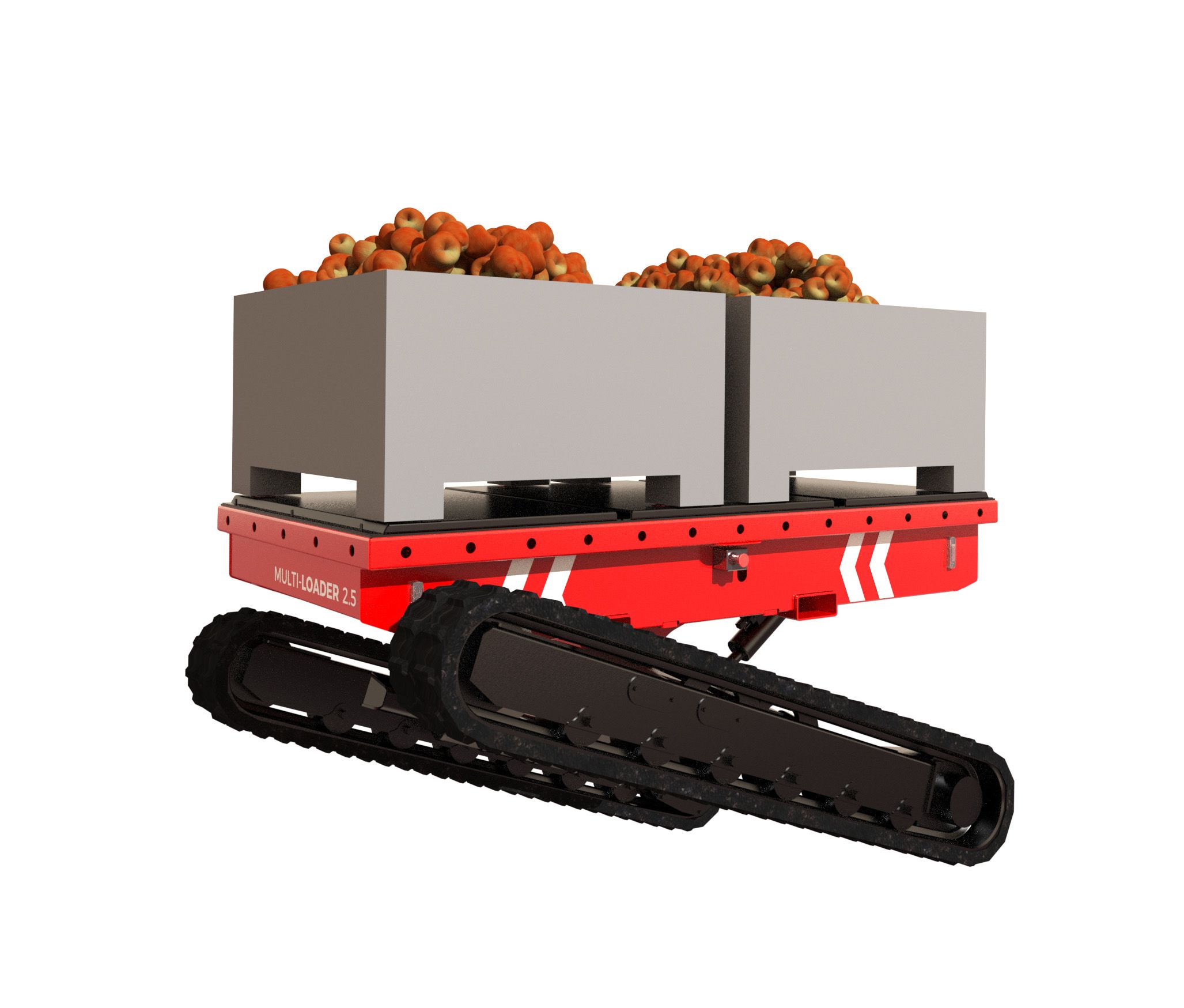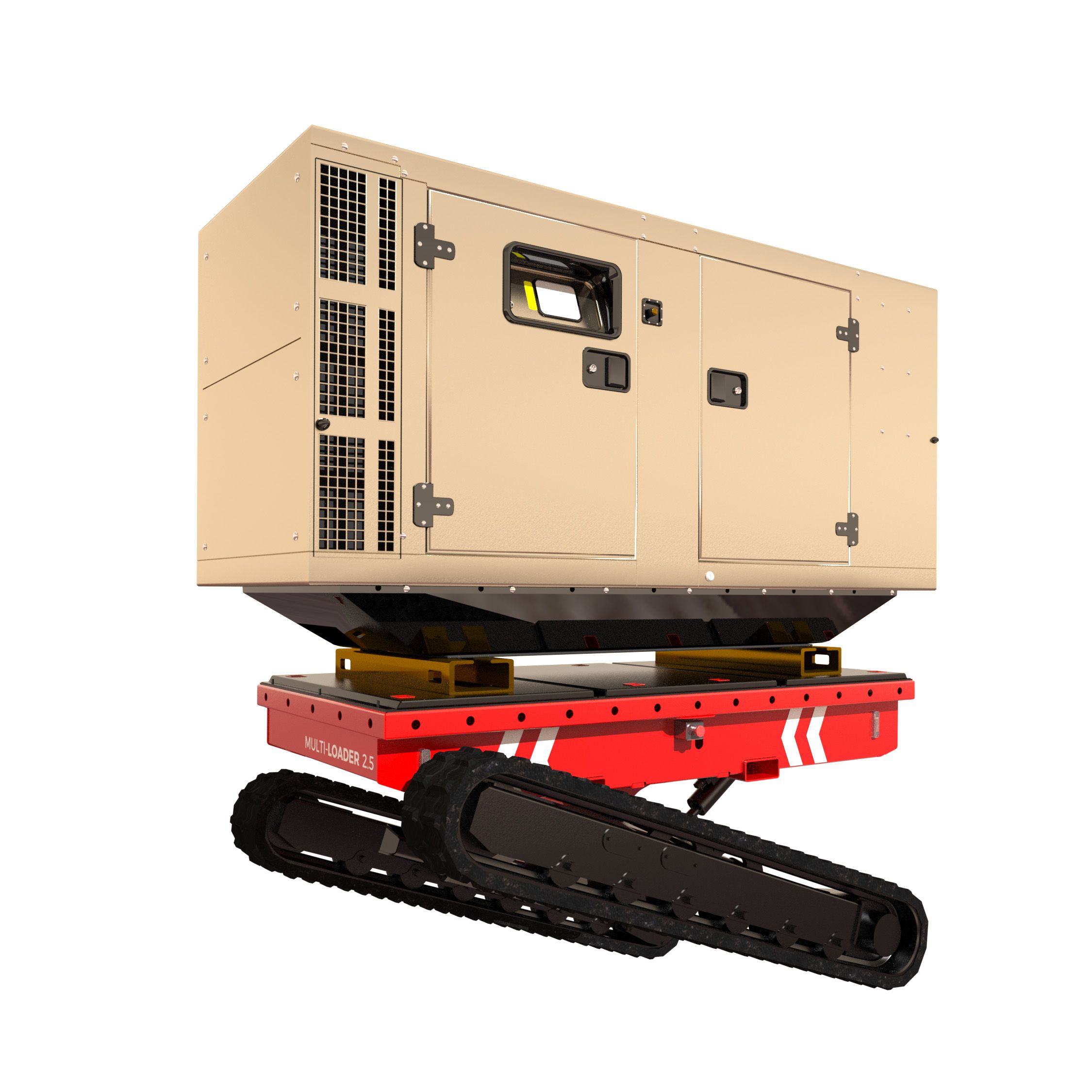 The machine with bi-leveling system for handling up to 2500 kg
Equipped with a battery with motor-generator, the Multi Loader 2.5 tracked loader offers the possibility to handle different types of loads up to 2500 kg of weight and uses the innovative bi-leveling technology, developed and patented by the company team of experts, to simplify the work operations of its customers.
Why should you choose it?
The model in question is a high efficiency tracked loader. Its development is due to a team of business experts, who work with commitment and passion to produce a machine able to transport a large range of items such as glass, equipment and construction equipment, as well as civil and industrial windows and other objects. By choosing it, you will get benefits such as, for example, the following ones:
High working autonomy (10 hours)
Constantly horizontal loading platform thanks to the Dynamic Leveling technology
Eco-friendly
Extremely quiet
How can it be customized?
Although there are already installed numerous technological devices as standard features, Almac offers additional useful optional for the tracked loader in question, so that its use can be perfectly adapted to any customer's need. Choosing it, in fact, you will have the opportunity to request to have included the following implementations:
Anti-marking tracks
220V – 2.2 kW Electric engine
If instead you are interested in personalizing the aesthetic features of the Multi Loader, you can select  the color of your choice.
| | |
| --- | --- |
| Hydraulic Circuit | Electric |
| Engine | Battery |
| Auto Diagnostics | Yes |
| Control Board | Radio (Wireless) |
| Easy Drive | Yes |
| Direction Control System | Yes |
| Dynamic drive (DDS) | Yes |
| Automatic Levelling System | Yes |
| Electric Motor 220V – 2.2kW | Optional |
| Generator 220V – 1000W | Optional |
| Non-marking Tracks | Optional |
| Custom Colors | Optional |
| Automatic Drive | No |
| | |
| --- | --- |
| Max Capacity | 2,500 kg |
| Max Working Height | 0.74 m |
| Min Width | 1.46 m |
| Max Width | 1.64 m |
| Dynamic Levelling System | Yes |
| Battery Autonomy | 8 h |
| Powered (Electric Engine) | 48V-3kW |
| Battery Pack | AGM n°8 180Ah 48V |
| Battery charger | n°2 20Ah 48V |
| Recharging time | 12 h |
| Control Panel | Radio (Wireless) |
| Undercarriage | Bi-Levelling |
| Front Longitudinal Levelling | 20° |
| Rear Longitudinal Levelling | 15° |
| Lateral Levelling | +/- 14° |
| Electric Pump Option | No |
| Hydraulic Commands | Proportional |
| Direction-Control System | Yes |
| Easy-Drive System | Yes |
| High Speed Kit | max 2.20 km/h |
| Inclination Control | Automatic |
| Gradeability | 25° |
| Side Slope | 25° |
| Length | 2.40 m |
| Total Weight | 1780 kg |