Quick Specs
Max height: 12.00 m
Width: 1.46 m
Capacity: 300 kg
Easy Drive System
This is the auxiliary traction control. For example while the machine is moving over a grass allowing the command in a "smooth control" with acceleration and deceleration phases extended. That void wrong commands like tracks counter-rotation.
Direction-Control System
This is the auxiliary steering control. For example while the machine is transferring and/or in a straight path allowing the operator to handle both tracks using one joy-stick forward and reward.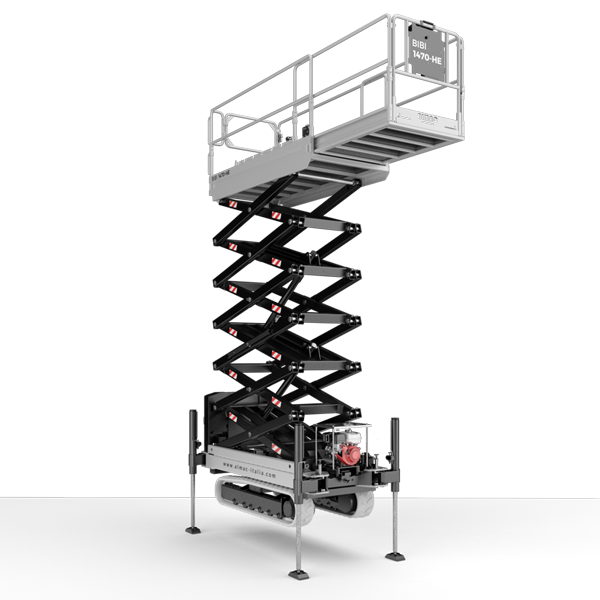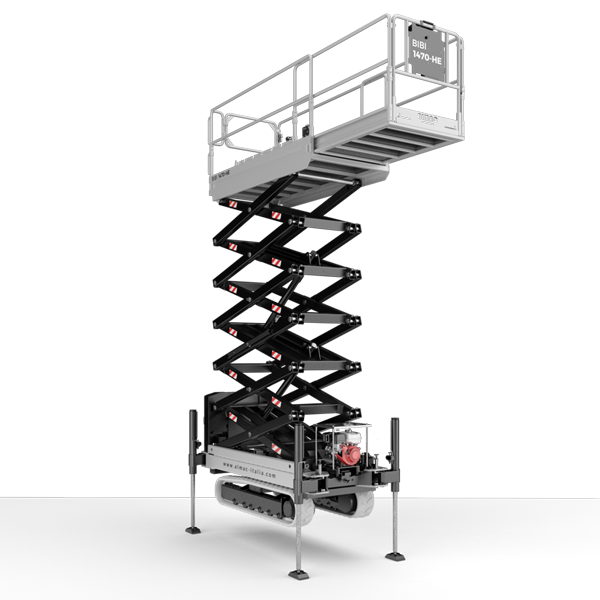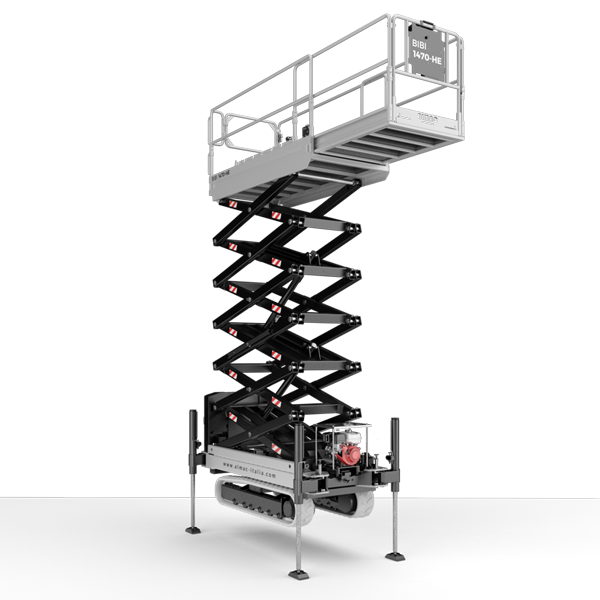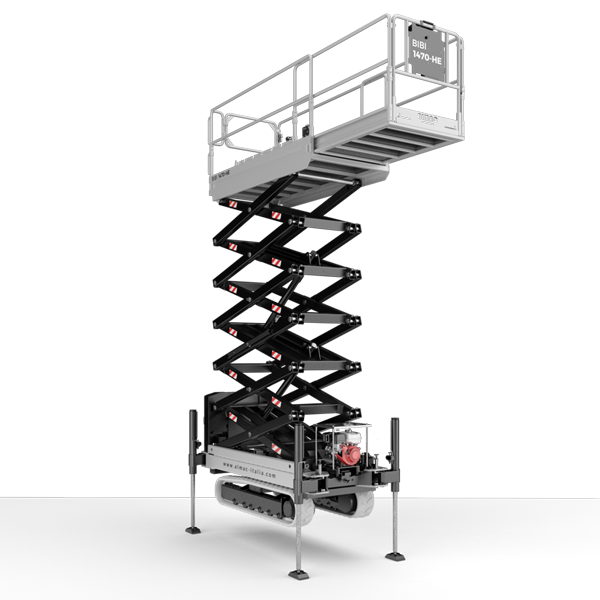 The scissor lift for working up to 14 meters
The highly specialized professionals of the Almac team manufacture and market the Bibi 1470-HE scissor lift, a model that allow you to work up to 14 meters in a simple and safe way, thanks to its stabilizers.
Why rely on this mini-scissor?
Almac, aware of the high demands of its customers and those operating in the relevant sector, is committed to creating a high-efficiency tracked mini-scissor, that will offer numerous benefits to its operators. The model proposed here, in fact, will allow you to obtain the following advantages:
Execution of operations in confined spaces thanks to the retractability of the stabilizers
High safety even in conditions of steep inclines or rough terrain
Possibility of use both indoors and outdoors by electric power or the petrol engine
What customization can you get?
To offer a product that really suits individual needs, Almac offers a wide range of optional devices for the mini-scissor. According to your specific needs, in fact, you can request some implementations, such as the inclusion of the following features:
220V – 1000W Electric generator
Anti-marking tracks
220 V – 2.2 kW Electric pump
In addition to these optional, the company offers the possibility to select the color of your machine and choose the one that best suits your company.
| | |
| --- | --- |
| Hydraulic Circuit | Electric |
| Engine | Petrol (Diesel option available) |
| Auto Diagnostic | Yes |
| Control Board | Radio (Wireless) |
| Baskets Adjustable and Fold-able | Yes |
| Easy Drive | Yes |
| Direction Control System | Yes |
| Dynamic drive (DDS) | Yes |
| Automatic Levelling System | Yes |
| Electric Motor 220V – 2.2kW | Optional |
| Generator 220V – 1000W | Optional |
| Non-marking Tracks | Optional |
| Custom Colors | Optional |
| Automatic Drive | No |
| Electric Scissors Kit | No |
| | |
| --- | --- |
| Basket Capacity | 300 kg (2 person) |
| Max Basket Height | 12.0 m |
| Max Working Height | 14.0 m |
| Working Height with Narrow Stabilization | 10.0 m |
| Moving Height | 6.0 m |
| Powered | Honda iGX390 (Petrol) |
| Powered (optional) | Hatz 1B40 (Diesel) |
| Accelerator | Automatic |
| Track width of Undercarriage | 1.15 m |
| Basket Levelling | Automatic |
| Front Longitudinal Levelling | +/- 12° |
| Rear Longitudinal Levelling | +/- 11° |
| Lateral Levelling | +/- 15° |
| Power Generator (optional) | 220V-1kW |
| Electric Pump (optional) | 220V-2kW |
| Hydraulic Commands | Proportional |
| Dynamic Levelling System | No |
| Pro-Active Levelling System | No |
| Direction-Control System | Yes |
| Easy-Drive System | Yes |
| High Speed Kit | max 2.2 km/h |
| Ground Control Emergency | Yes |
| Inclination Control | Automatic |
| Gradeability | 25° |
| Side Slope | 20° |
| Length | 3.05 m |
| Width | 1.15 m |
| Min. Machine Height with Folded Railings | 2.28 m |
| Min. Machine Height without Railings | 1.98 m |
| Total Weight | 3380 kg |
| Compliance | EN 280, ANSI, CSA, ASNZS1418 |