Aerolift – Paper Reel Handling
Aerolift offers a wide range of paper reel handling equipment for the complete lifting process of paper reels. At the production in full automatic paper manufacturing plants and in smaller businesses, such as the packaging and printing industry. Our lifting solutions are specially designed to use all available storage space as efficiently as possible. The paper reels are stacked with a minimum distance in between. And a stack can be as high as 15 meters.
Vacuum paper roll lifter
A vacuum paper roll lifter is able to lift, transport and stack paper reels easy and fast. After production, the paper reels are wrapped into a seal paper and mechanically placed upright. Next the vacuum paper roll lifter is positioned on top of the paper reel and the vacuum is activated. The boost that creates the vacuum produces a sealed paper surface which is airtight. Now the paper is ready for handling. The suction pad is placed on top of the paper reel, which means the reels can be placed closely together, maximising your storage. A highly effective lifting system for paper reels. The paper rolls have different lengths and diameters. All Aerolift lifting systems are custom made to handle the complete range.
Handling paper reels with the Aerogripper
To be shipped by sea, paper reels must often be packed and therefore can no longer be lifted by vacuum technology. The packaging would simply be ripped off. Still we received the request to come up with a solution which offered the same sort of advantages as a vacuum paper roll lifter. We designed the Aerogripper. A six-armed paper gripper which uses an electrical-hydraulic driven system. The Aerogripper is specially designed to lift packed paper reels without causing damage to the packaging. Moreover, the six arms are designed to perfectly match the parameters of the batch of paper reels, so they are still placed with a minimum distance in between. An additional advantage of the long gripper arms is that multiple paper rolls can be lifted at once. The Aerogripper is mainly used for transfer operations and preparing paper rolls for transport.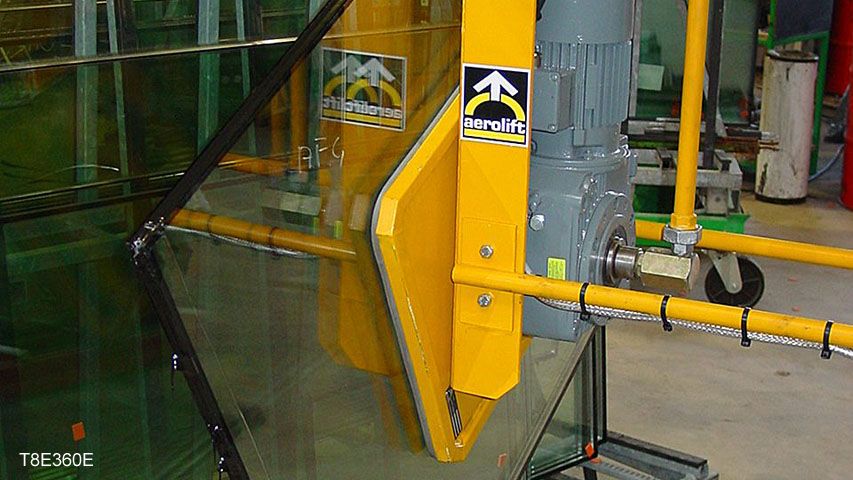 Aerolift specialises in customised lifting solutions for the complete handling processes within the heavy lifting industry. We design solutions with a lifting capacity from only 85 kg up to 85 tons. read more
Vacuum for small scale handling of paper reels
Our paper reel handling equipment is often used in large paper mills which operate full automatic without human interference. Still we also design lifting solutions for smaller businesses. Unlike the large paper manufacturers, they often have limited storage space. We design for example paper roll lifters which operate in combination with forklifts and cranes which are manually operated.
More information about the paper reel handling equipment
Would you like to know more about our paper roll handling equipment? We are happy to discuss the possibilities for your specific situation.